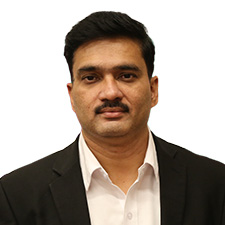 Dr. Satyanarayana
Food Technology & Regulatory Expert
Dr. Satyanarayana leads the Food Processing and Retail Practice at Sathguru. He is experienced in innovation management, corporate research strategy, technology commercialization and regulations for biotechnology & agri-food sectors, and technical due diligence for M&As and technology acquisition. He is actively involved in technology landscaping and scouting of progressive technologies from leading global research bodies and licensing them to clients. He also works extensively in the area of patent valuations for life sciences sector. He is involved in project management of development focused public – private partnership projects involving technology transfer, agriculture & food production systems and food safety.
Dr. Satyanarayana is an FSPCA Trainer of Trainer and Lead Instructor for FSPCA Preventive Controls for Human Foods and conducts trainings to help the food exporters to USA in meeting compliance requirements under US FDA's FSMA. He is also a qualified FSSC 22000 Auditor.
He has over 14 years of industry experience and prior to joining Sathguru, He worked with Tata Chemicals Ltd – Innovation Centre in the areas of industrial biotechnology and food ingredients. He holds a Ph.D degree in Biotechnology from CFTRI/ University of Mysore and M.Sc. (Genetics & Pant Breeding) from ANGRAU.