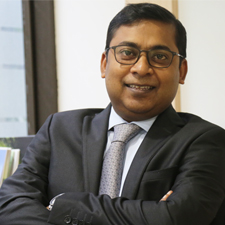 Gopal Krishna Podder is the Chief Financial Officer of Sathguru Catalysers. He is a finance professional with over 15 years of rich experience. His areas of expertise include Corporate & Investment Finance, Fund Accounting, Investment Banking, Audit and Taxation.
Prior to Sathguru, he was part of the Finance team at ICICI Ventures, one of the leading asset managers in India. He was associated with the Investment Banking division at Deutsche Bank, leading the India team as Finance Controller of Fixed Income and Equity Trading desk. He has also been associated with HSBC Security Services, Globeop Financial Services and Viteos Capital Market where he was instrumental in structuring and implementation of Fund accounting and Product Control systems and administration of various multi-billion dollar Hedge Funds and Private Equity Funds based out of New York, San Francisco and Dublin.
Gopal is a Commerce Graduate from Calcutta University and is a Chartered Accountant.