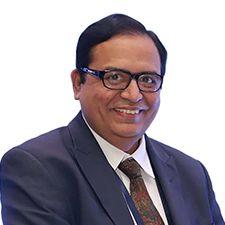 Vijayaraghavan Kannan (Vijay) is a Partner at Sathguru Catalysers and the Chairman of the Investment Committee. He has over 35 years of rich experience in the fields of financial services, management consulting, venture capital ecosystem development, technology transfer, institution building and policy advocacy across agriculture, food and healthcare sectors.
Vijay is Chairman and Founder-Director of Sathguru Management Consultants, the Sponsor of the fund. He has advised several national and international governments from both advanced and emerging economies to shape their science and technology commercialization policies; technology development and dissemination strategies. For over three decades, he has led several collaborative partnerships in research, technology transfer and regional capacity and helped structure governance and leadership models for various global public and private consortiums. He has worked extensively with the private sector globally, helping enterprises to adopt cutting edge technologies and building unique strategies to gain market leadership.
He has graduated from Madras University and is a Chartered Accountant from India. He is a certified Management Consultant by the Council of Management Consulting Institute (CMC) and Registered Technology Transfer Practitioner (RTTP). He is also an Adjunct faculty at Cornell University, Ithaca, USA.