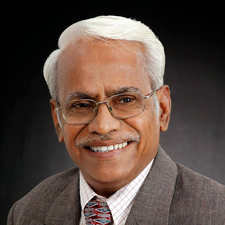 Ramasamy Chinnachamy is the former Vice Chancellor of Tamil Nadu Agricultural University, located in Coimbatore, Tamil Nadu and also the Member of State Planning Commission (agriculture and irrigation) of Tamil Nadu.
He was the President of Indian Society of Agricultural Economics from 2011 to 2015. He has been associated with Agricultural Innovation Partnership project funded by USAID promoting agricultural education and extension in select agricultural universities in India and few developing countries(2011 – Present)
He was a Visiting Research Fellow at International Food Policy Research Institute, Washington D.C.(1984-87), Visiting Researcher at International Rice Research Institute, Manila and also at ICRISAT, Hyderabad, India.
Ramasamy Chinnachamy has studied at Tamil Nadu Agricultural University and University of Minnesota. He has a Ph.d in Agricultural Economics.